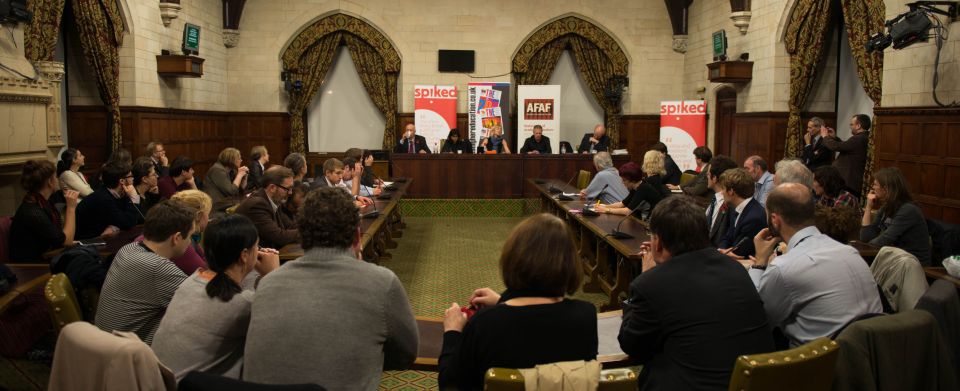 Directors
Professor Dennis Hayes
Dennis is the Director of Academics For Academic Freedom. His is a visiting professor at the University of Buckingham and an Emeritus Professor of Education at the University of Derby. He is the co-author of the controversial, best-selling book The Dangerous Rise of Therapeutic Education.
Tessa Clarke
Tessa is a Deputy Director of AFAF.  As well as being a free speech campaigner, she is an award-winning journalist, documentary maker, media commentator and author of Restraint or Revelation? free speech and privacy in a confessional age and Disclosure: media freedom and the privacy debate after Diana. She is an alumna of the International Journalists' Programmes (IJP, Germany).
Dr Neil Thin
Neil is a Deputy Director of AFAF.  He was a Senior Lecturer and former Director of the Undergraduate School of Social and Political Science at the University of Edinburgh where he is currently an Honorary Research Fellow. He also formerly served as a Parliamentary Fellow in the Scottish Parliament and as International Development Adviser to the Scottish Government, as well as serving on the boards of several major international charities, as Adviser to UN/Government of Bhutan Development and Happiness Committee, and as Chair of Practical Action/Oxfam Publications. He has authored several books on Development and on Wellbeing, most recently A Research Agenda for Social Wellbeing (Elgar, 2020).  
AFAF Advisory Board
We have taken a different approach to building our Board. We have invited a range of individuals with different subject backgrounds, views and opinions, but all of whom are willing to defend free speech and academic freedom. They include students, postgraduates, alumni, early career lecturers, professors and others to vice-chancellor level. 
The role of our advisors is to advise – to comment privately, on our activities and our plans and keep us informed of issues that we should address. 
Dr Roba Al-Ghabra
Roba completed a qualification in medicine and then changed direction. She pursued a career in law and is now a solicitor at Birnberg Peirce specialising in immigration law, dealing with a variety of cases from asylum to applications of entry clearance and assisting those who face deportation.
Dr Shereen Benjamin
Shereen is a senior lecturer in primary education at the University of Edinburgh. She is the author of The Micropolitics of Inclusive Education and a joint editor of The Politics of Gender and Education: Critical Perspectives. She has written on academic freedom and freedom of expression for the Times Educational Supplement and the Morning Star.
Dr Jim Butcher
Jim is a reader in the business school at Canterbury Christ Church University and author of three books on the politics of travel. He co-ordinates the Don't Divide Us academics group. Jim has written on education, free speech and other matters on Spiked, Times Higher, Areo and elsewhere.
Dr Firat Cengiz
Firat is a senor lecturer in law at the University of Liverpool. She was born in Turkey in 1979 just before the 1980 military coup. She was raised by socialist parents who were members of the underground resistance. She saw her parents imprisoned for their beliefs and these early experiences informed her understanding of justice and freedom. Firat studied law in Turkey and was subsequently offered scholarships to study for a master's degree and then a PhD in the UK. She has taught and researched competition law, EU-Turkey relationships and the law related to gender. Her current field of interest is the regulation of blockchain and cryptocurrencies
James Esses
James qualified and practiced as a Criminal Defence Barrister before holding a number of senior roles in the UK Civil Service, including Head of Policy at the Crown Prosecution Service and Head of Strategic Legislation at the Home Office. He is a trainee psychotherapist and co-founder of 'Thoughtful Therapists' – a group of clinicians and trainee clinicians with concerns about the impact of gender ideology on counselling and therapy.
James engages in advocacy, both written and oral, on the topics of sex, gender and free speech – particularly in relation to the medicalisation of children and the wider cultural, health, legal and political implications. He has been featured in articles within mainstream newspapers, including the Telegraph and the Mail. He has appeared on TalkRadio, GB News and numerous podcasts, including Triggernometry and the New Culture Forum. He also writes for the online publication, Spiked.
James is currently involved in high-profile litigation, following expulsion from his Masters' degree in psychotherapy, after speaking out about the medicalisation of children. He is suing his university course provider and therapeutic regulatory body for discrimination based on his beliefs and has crowdfunded over £100,000 towards his case from public donations.
Dr Julia Gasper
Julia is an academic and writer. Her books include The Marquis d'Argens: A Philosophical Life and Elizabeth Craven, Writer, Feminist and European.
Richard Harris
Richard started as a secondary teacher, became a deputy head, and realised he had to move on.  He then became a teacher educator in a number of universities, ending as Director of Teacher Education at the University of Hull.  After a few years as Regional Secretary for one of the 2 big teacher unions, he remains active as one of AFAF's legal advisors. 
Professor Terence Kealey
Terence is a biochemist and is a former Vice-Chancellor of the University of Buckingham. His publications include The Economic Laws of Scientific Research, Sex, Science and Profits, and Breakfast is a Dangerous Meal: Why You Should Ditch Your Morning Meal For Health and Wellbeing.
Professor Ellie Lee
Ellie is a sociologist of the family and parenting culture at the University of Kent and is the co-author of Parenting Culture Studies.  She considers the upholding of liberal values by adults to be central to the effective socialisation of children. She is involved with colleagues at Kent in finding ways of promoting the centrality of academic freedom to meaningful campus life, for staff and students. She has spoken out against compulsory values training for students as antithetical to academic freedom.
Dr Penny Lewis
Penny is programme lead for the University of Dundee/ Wuhan University BA Architectural Studies (Hons) programme. She teaches architectural history and design; her research looks at the impact of environmental thought on architecture and the public realm.  Penny lives in Fife in Scotland where she has campaigned against the Named Person legislation, the Smacking Ban and the Hate Crime Bill, and for parental rights and free speech.  She was the lead editor and a contributor to the book Architecture and Collective Life (Routledge 2021). 
Harry Saul Markham
Harry first joined the Board as a student at UCL, where he was the President of the UCL Friends of Israel Society. He was also a Critical Thinking Fellow at the Ayaan Hirsi Ali Foundation.
Dr Ruth Mieschbuehler
Ruth is a programme leader for education studies at the University of Derby. Her publications include The Racialisation of Campus Relations and The Minoritisation of Higher Education Students: An Examination of Contemporary Policies and Practice.
Katherine Morgan-Davies
Katherine is the author of The Girl in the Shadows. She became a member of the board as a final year joint honours student at Leeds University. She is now part of the Leeds AFAF branch.
Professor Ian Pace
Ian is a pianist, musicologist and Professor of Music and Strategic Advisor (Arts) at City, University of London, where he has worked since 2010, having previously worked at the University of Southampton and Dartington College of Arts. He has recorded over 40 CDs, mostly first recordings of contemporary music, and published a range of books, chapters and articles on new music, music history and historiography, performance studies, critical musicology, and much else. His work is especially focused on music in the context of twentieth-century German history, from the Weimar Era through to the post-war years; but equally on the music of British composer Michael Finnissy, which he has played and recorded widely, and about whom he has published one monograph and two edited volumes. He is deeply committed to the causes of free critical thinking and academic freedom in academia. Visit his personal website here.
Professor David Paton
David is Professor of Industrial Economics at Nottingham University Business School. His research areas include gambling taxation, Covid-19 policy, economics of teenage pregnancy, assisted suicide and the economics of cricket. He has written on a range of current topics including academic free speech for outlets such as The Spectator, Spiked, Unherd, Reaction and Cap-X.
Dr Lawrence Patihis, PhD is a British/American psychologist interested in distinguishing science and pseudoscience, with a particular interest in applying this to claims of both repression and oppression as invisible entities and explanatory forces. He researches and teaches on trauma, memory, and the law, and works as an expert witness on false memory and memory reliability cases. He is a member of the Heterodox Academy, the Free Speech Union, and serves the Scientific Advisory Board of the British False Memory Society.
Professor Jo Phoenix
Jo has wide ranging (theoretical, methodological and empirical) expertise in matters pertaining to sex, gender and justice as well as the treatment of young people in trouble with the law. She has a deep abiding concern for ethics and knowledge production and academic culture. She has held several senior leadership roles including Dean (Durham University), Head of Department (Leicester University) and is currently Deputy of Head of the School of Law and their inaugural Professor of Criminology.
Dr Vanessa Pupavac
Vanessa is a senior lecturer at the School of Politics and International Relations at the University of Nottingham. Her publications include Language Rights: from free speech to linguistic governance and other works on human rights and humanitarian politics. She has recently co-translated the major plays of Miroslav Krleža, the leading Croatian writer of the twentieth century. 
Richard Reynolds
Richard is a barrister practicing from Three Temple Gardens. His practice ranges from gangs and guns to the finer points of Human Rights law. He will be appearing in the UK Supreme Court later this year. As a student, he organised Students For Academic Freedom (SFAF)
Professor Andrew Tettenborn
Andrew is a professor of commercial and shipping law at Swansea University. He is a member of the Heterodox Academy, Don't Divide Us and the Free Speech Union, and sits on the Legal Advisory Committee of the latter. In addition he writes on political topics in a number of publications, including the Spectator and Spiked.
Professor James Tooley
James is the Vice-Chancellor of the University of Buckingham where he is also professor of Education Entrepreneurship and Policy.  His ground-breaking research on low-cost private education has won numerous awards. His book based on this research, The Beautiful Tree: A personal journey into how the world's poorest are educating themselves was a best-seller in India and won the Sir Antony Fisher Memorial Prize.
Dr Stuart Waiton
Stuart is a senior lecturer in sociology and criminology at Abertay University in Dundee and specialises in new forms of criminalisation, including the criminalisation of language. He is a columnist for the Glasgow Herald and blogs at https://stuartwaiton.wordpress.com/
His book, Snobs' Law examines the criminalisation of football fans. His work examining the threat to academic freedom centres around the problem of treating staff and students as essentially vulnerable.
(Photo Credit: Steve Forrest)