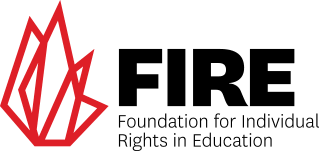 AFAF is proud to have the Foundation for Individual Rights in Education (FIRE) as a 'friend'. FIRE is the leading campaign group for free speech on campus in America. Its outstanding team is led by the President, lawyer and author, Greg Lukianoff .
About FIRE
Founded in 1999, FIRE's mission is to defend and sustain the individual rights of students and faculty members at America's colleges and universities. These rights include freedom of speech, freedom of association, due process, legal equality, religious liberty, and sanctity of conscience—the essential qualities of liberty. FIRE educates students, faculty, alumni, trustees, and the public about the threats to these rights on our campuses and provides the means to preserve them.
What does FIRE do?
FIRE effectively and decisively defends the fundamental rights of tens of thousands of students and faculty members on our nation's campuses while simultaneously reaching millions on and off campus through education, outreach, and college reform efforts. In case after case, FIRE brings about favourable resolutions not only for those individuals facing rights violations, but also for the millions of other students affected by the culture of censorship within our institutions of higher education. In addition to our defence of specific individuals and groups, FIRE works across the nation and in all forms of media to empower campus activists, reform restrictive policies, and inform the public about the state of rights on our campuses.
Visit the FIRE website for details of how to get involved in defending free speech on campus.