National Association of Scholars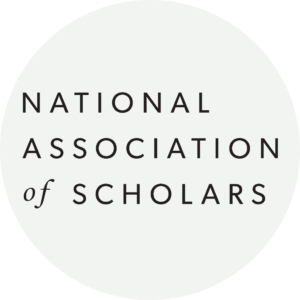 Chance Layton invites AFAF members to join the National Association of Scholars:
Intellectual freedom is a foundational principle of American higher education, but it is not the only foundational principle. Intellectual freedom is part of a complex whole that sustains the university in its legitimate purposes. What specifically should we expect as a society from our colleges and universities?
The National Association of Scholars believes that higher education ought to address four things: vocation, culture, truth, and character. They should seek some balance that will prepare each coming generation with the knowledge and skills to succeed in practical careers; endow each coming generation with a worthwhile knowledge of our own civilization and a lively understanding of the broader world; join each coming generation in the pursuit of truth; and shape the character of the individuals who make up that generation so that they become worthy and constructive citizens.
These days, that goal seems more and more elusive. Some in higher education dismiss intellectual freedom as an illusion and extol other goals as more worthy: social justice, "safety," global citizenship, and group identity have emerged as ideals that should, in the arguments of their proponents, supplant the ideal of freedom. This gives urgency to the task of explicating what it means to put freedom at the center of higher education. Teaching young men and women how to be free entails making distinctions among different kinds of freedom and different contexts of freedom, and between freedoms and other foundational principles.
That is the role of the National Association of Scholars. We are a membership organization devoted to the idea that intellectual freedom, the pursuit of truth, and shaping of character are central elements of higher education. Our members come largely from within academe, but it is open to all who are dedicated to the pursuit of truth and the life of the mind. We have a committed core of over 3,500 members that work on behalf of hundreds of thousands of college and university professors, students, and independent scholars.
The NAS documents what is happening on college and university campuses and works with our members to promote reforms. We produce deeply-researched reports analyzing critical issues within higher education, and we work with our affiliates to promote positive change on university campuses. Of most interest to members of AFAF is perhaps our work documenting instances of cancel culture on campus.
Our membership includes scholars from across the world, and we would love to have you join us. Dues are a modest annual amount, and as a member you will receive exclusive invitations to our events as well as a subscription to our acclaimed journal of culture and higher education, Academic Questions, and access to our entire back-issue of over thirty years of content.
We would also love for you to join us on Twitter and Facebook, and consider joining our newsletter. We offer opportunities for members to write for us as well, and would love to hear from you if you have an article relating to higher education.