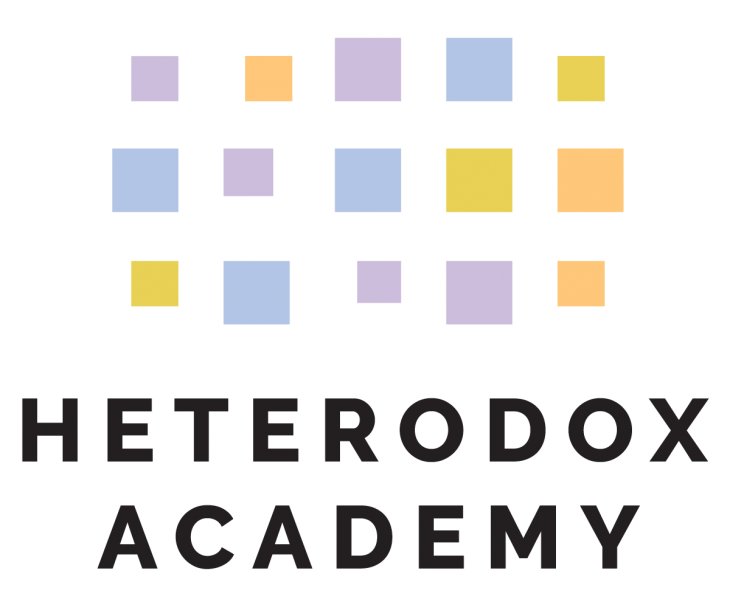 An invitation to join the Heterodox Academy
Jeremy Willinger invites AFAF members and others to join the Heterodox Academy:
There can be no more vital issue for academics than academic freedom. The university system was founded on the pursuit of truth and the premise that challenging oneself to examine preconceived notions is both noble and worthy. Without the ability to freely discuss and debate ideas and perspectives,everyone on campus suffers as orthodoxy becomes a more pervasive climate, opportunities for empathy diminish and students leave campus less politically engaged.
Heterodox Academy seeks to ensure environments of heterodoxy- where a plurality of opinions is both encouraged and sought after- on college campuses. We are a membership-based organization of more than 1,000 academics from across the political spectrum who have come together under the unifying mission to increase viewpoint diversity on campus.
To do so, we have created a number of resources designed to enhance viewpoint diversity in higher education. The most relevant for AFAF members is our Fearless Speech Index, which was designed to give professors and administrators a tool to assess the degree to which students feel comfortable (or reluctant) to speak up and offer their opinions in a relatively small class, with 20-30 students. We use this as the focal situation because it is the place where it is most urgent for students to participate honestly. It can also be used by university administrators to gauge the environment among faculty and whether they feel comfortable airing their perspectives. We just published the first research from the initial survey respondents.
While we began as a membership organization dedicated to viewpoint diversity on US campuses, the response from academics at universities outside our borders has been both encouraging and vital to our success. We have more than 30 members from schools across the UK as well as additional members from other countries. No matter where they call home, each member endorses the following statement when joining:
"I believe that university life requires that people with diverse viewpoints and perspectives encounter each other in an environment where they feel free to speak up and challenge each other. I am concerned that many academic fields and universities currently lack sufficient viewpoint diversity—particularly political diversity. I will support viewpoint diversity in my academic field, my university, my department, and my classroom."
The shared mission of both AFAF and Heterodox Academy means your presence and advocacy can serve a dual purpose. Therefore, we would like to invite AFAF members to also join Heterodox Academy. There are no dues and you can cancel membership at any time.
You are also invited to add your voice to our social platforms (Twitter, Facebook) and share story pitches for our blog. We welcome your participation and hope to have you as members in Heterodox Academy.
Jeremy Willinger is the Communications Director at the Heterodox Academy.