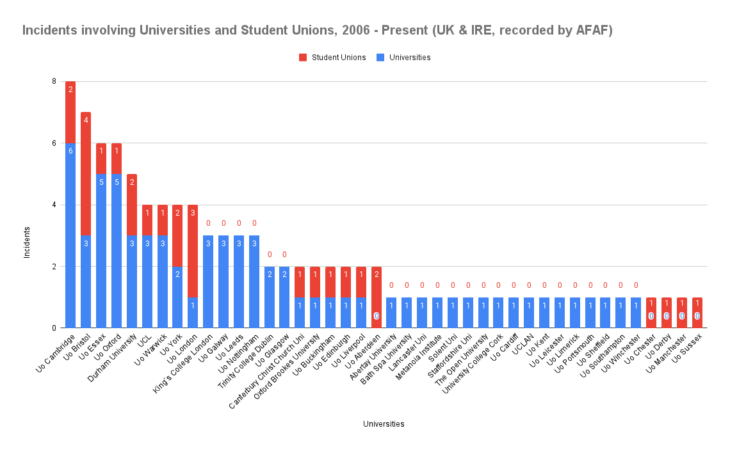 Reflections on The 'Banned' List
Keenan Clough* reviewed The 'Banned' List
AFAF has been recording examples of protests, no-platforming, sackings, and resignations that have resulted in the restriction of freedom of speech on campuses across Britain and Ireland.
Over many years the incidents recorded in AFAF's The 'Banned' List has become a point of reference for many who want to assess the state of free speech in universities.
What does the List tell us about the state of free speech in universities? Excluding events or people that were protested against, but still happened, the List still shows that the actions of many universities, student unions and some 'debating' 'societies have a chilling effect on free speech.
The Worst Offenders
The 'worst offender' was found to be the University of Cambridge, with a total of eight incidents. Two of these incidents involved Cambridge Students' Union.
In second place was the University of Bristol, with a total of seven incidents, four of which involved the Bristol Students' Union.
In joint third place came the University of Essex and the University of Oxford, both of which saw a total of six incidents, with each of their Student Unions involved in one incident.
In fourth place came Durham University with five incidents, two involving the Students' Union.
Fifth place saw a four-way tie between UCL and the University of Warwick each with four incidents. Each of their student unions were involved in one incident.
Finally, the University of York saw two incidents also also involving their Student Union and the University of London's Student Union was involved in one incident.
Crunching the numbers
A total of ninety-seven incidents have been recorded on forty-three campuses across the UK and Ireland since 2006, sixty-nine involving University decisions and twenty-eight involving Student Unions.
The 'top five' worst offending universities experienced a total of forty-eight incidents, or 49.48% of the total since 2006 on AFAF records.
These may seem to be relatively small numbers but the effect each case has on the sector overall is chilling.
Honourable Mentions
It should be noted that while many Student Unions have taken 'hard-line' approaches towards 'protecting' their students from freedom of thought on campus and establishing 'safe spaces', there have been many examples of Universities defending the rights to academic freedom and freedom of debate on campus.
Cambridge (Debating) Union for example has shown considerable respect for the right to debate and upheld academic freedom in their spaces, most notably when hosting Tzipi Hotovely (An Israeli envoy) despite threats and disruption.
Furthermore, some universities have seen the error of the ways through their own investigations, or external pressure, and have re-invited speakers, issued apologies and in some cases stepped in to prevent their respective Student Unions from making decisions that would otherwise have restricted academic freedoms.
For example, the University of Essex, our third worst offender, apologised to Jo Phoenix and Rosa Freedman after their invitation to speak at the University's Holocaust Memorial Week event was rescinded at short notice, due to pressure over their supposed views on trans rights.
*Keenan Clough is an intern at AFAF. This is a snapshot from 31 March 2023. The List continues to grow. AFAF welcomes any additions or corrections.